Dresses
Housekeeping dresses are a great benefit for anyone in the hospitality industry. They protect your clothing, while making it convenient to do your work effectively. They can be bought in various lengths, sizes and shapes, to allow housekeeping staff to work conveniently and comfortably. You can also choose dresses according to a specific color scheme, and you can also have them branded with your company logo and slogan to help advertise your brand.
When it comes to housekeeping dresses, you truly have a lot of options to choose from. Housekeeping uniforms have definitely come a long way and have evolved from a plain apron type garment, to a range of modern styles for a wide variety of working environments. Housekeeping dresses can be worn almost anywhere - by homemakers at home, or housekeeping staff in a hotel or medical center.
Housekeeping dresses have been around for centuries, and they have always been practical. But these dresses were also used to distinguish individuals according to their social standing; for e.g. maids and housekeepers did not wear the same dresses as wealthier individuals. Over time, these dresses have changed into modern, sophisticated dresses that are very effective.  
Popular housekeeping dresses include the light blue women's housekeeping princess dress, or the chestnut premier housekeeping dress. These dresses are made from materials like polyester and cotton, making them very effective and comfortable to wear. They are also available in many different sizes, from XXS to 3XL, so they will easily fit any body type. You'll be comfortable at work, and enjoy your housekeeping tasks with a convenient dress.
Housekeeping dresses are available in many different styles, as well as materials. When you buy these dresses, you can choose a style that matches your work environment, and you can choose a color that will complement any outfit. You can also have these dresses customized with your company logo and slogan, advertise your business and to allow your employees feel part of the.
Housekeeping Accessories
You can choose from various accessories to add to your housekeeping dresses. This includes shirts, pants, aprons, vests, and gloves. They make your work much easier, and if you are a business owner, you can also ensure that your employees have everything they need.
Housekeeping tunics and shirts are available in many colors, patterns and fabrics. You can also choose from various pocket configurations, to make these shirts even more convenient to work with. Popular colors you can choose from include royal blue, steel grey, glacier blue, chestnut, teal and navy. They are often made from materials such as polyester and cotton, and are machine washable.
Housekeeping pants have various styles and colors to choose from. You can choose pants with elastic waistbands for additional comfort, as they can easily be adjusted to suit your body type. Pants are available for men and women, and they are very comfortable to wear. You can easily pair them with a suitable shirt to offer the perfect housekeeping outfit. They are available in different sizes, from XXS to 4XL, offering a range of options for you or your staff.
Housekeeping aprons are very helpful to use; they allow for comfort, flexibility, and style. Popular styles of aprons include straight line aprons and v-line aprons; they are both easily adjustable, and tie around the waist. They allow for effective protection for your clothing, making them essential to wear. Housekeeping aprons are also made from materials like polyester and cotton, and are completely machine washable for added convenience.
Vests can be worn in addition to your housekeeping shirt or pants, and make for a stylish alternative. Housekeeping vests are very comfortable to wear and come in a wide variety of colors. You can also choose a unisex vest, which is a great option for your employees, as everyone will look similar, thereby creating a uniformed look among your team.
Gloves are a handy accessory, especially since housekeeping staff often work with dirty or dangerous surfaces and chemicals. Gloves will protect your hands, and allow you to always stay clean and protected. Housekeeping gloves are usually made from cotton, and they are extremely soft and comfortable to wear.
Buying Housekeeping Dresses
Housekeeping dresses are available in an assortment of colors, patterns and fabrics. The solid-colored princess dresses are a top seller. For a subtle pattern, the pincord housekeeping dresses are a popular choice. For a more modern look, the Premier Housekeeping Dress Collection with dual, contrasting colors is crafted in a softer premier fabric.
If you are looking to buy housekeeping dresses, always consider the practicality in terms of your workplace. Choose a material that will be comfortable to wear, while also providing the protection that you need. This is a great way to protect your clothing, which is why these dresses are popular in so many working areas. They can also be customized according to your specific needs.
As a leading store, HousekeepingUniforms.com offers a range of high quality, affordable housekeeping dresses for your every need. We are your number one resource for any dress you may need. Our dresses have different pocket configurations too – they are very practical and versatile, making your work so much easier to do. You can browse through our selection and view other colored dresses to find the perfect affordable housekeeping dress for your needs.
If you are interested in adding a company logo or customization to your dress, please get in touch or visit our customization section. We'll even email you a free virtual sample, or a physical sample for a small fee.
Pink Women's Housekeeping Princess Dress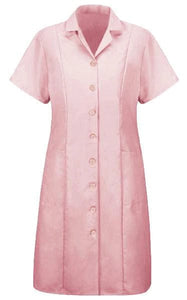 Vendor

Eagle Work Clothes

(as low as

$21.42

)
Aqua Women's Housekeeping Princess Dress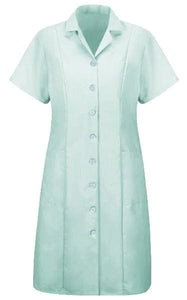 Vendor

Eagle Work Clothes

(as low as

$21.42

)
White Women's Housekeeping Princess Dress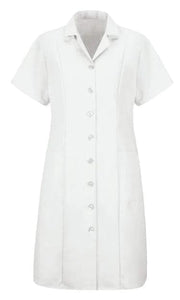 Vendor

Eagle Work Clothes

(as low as

$21.42

)